At Weeks Chiropractic Clinic, we can offer Therapeutic Laser Therapy. Laser therapy can relieve pain, reduce swelling and increase your range of motion.

What is Laser Therapy
Class IV Laser Therapy with the Platinum Series laser by K-Laser USA delivers specific red and near infrared wavelengths of laser light to induce a therapeutic effect within the body. These include increased circulation, decreased swelling, reductions of pain and enhanced tissue repair.
Laser Therapeutic Effects
During each painless treatment, laser energy increases circulation, drawing water, oxygen and nutrients to the damaged area. This creates an optimal healing environment that reduces inflammation, swelling, muscle spasms, stiffness, and pain. As the injured area returns to normal, function is restored and pain is relieved.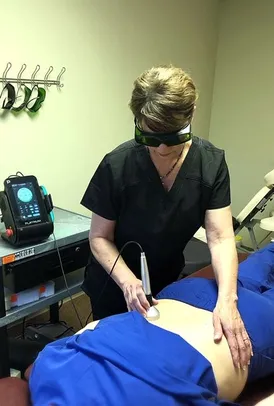 Are There Any Side Effects
During more than twenty years of use by healthcare providers all over the world, very few side effects have ever been reported. Occasionally some old injuries or pain syndromes may feel aggravated for a few days, as the healing response is more active after treatment.
Laser Therapy Can Help With
-Osteoarthritis or Degenerative Joint Disease
-Tendonitis
-Carpal Tunnel Syndrome
-Myofascial Trigger Points
-Neck and Back Pain
-Muscle Strains
-Ligament Strains
-Chondromalacia patellar
-Plantar Fasciitis
-Shoulder Pain
-Knee Pain
-Fibromyalgia
-Sports Injuries
-Auto and Work Related Injuries